PULSE Racing is looking for new athletes who are curious about the use of FES and who want to take on the challenge together. At the moment, four amazing athletes, Mohammed Ackloufi, Peter van Burk, Jet Pieters-Fuld and Remco Rozendaal are part of PULSE V. Besides the fact that of them train weekly at the VU, there is one athlete in the team, Remco Rozendaal, who is training from home and is being supervised remotely. Below, you can find the stories of our athletes.
Mohammed Ackloufi
My name is Mohammed Ackloufi, I am from Almere and I am one of the athletes of PULSE Racing. In 2002, I have had an accident that caused a spinal cord injury at level TH7/8. I am paralysed from my belly button to my feet. At this part of my body, I don't feel anything anymore. The only thing I can feel sometimes is the warmth of my phone on my leg. The only movement I experience are spasms. In the past, these spasms were sometimes so strong that I was able to stand on my legs.
I have always been a fan of sports. Before the accident, I liked to go for a run every day because otherwise I could not fall asleep. Moreover, I was a fanatic kickboxer, skier and rower. Sport is important to me because it is good for your brain and motivation.
After I ended up in a wheelchair, I participated in the competition of rowing and skiing of the Paralympic Games. It was intense to train for the Paralympic Games, but also contributed to an exciting experience!  I have participated in rowing at European and World Championships and I even won gold at the World Championships. In the future I won't participate in the Paralympic games anymore, because at this point in my life I like to exercise only for fun.
During the period of the Paralympic Games I came into contact with electrostimulation. After I started as a test subject at Rik Berkelmans' company, I started using FES bicycles in the Reade rehabilitation center as well. Because I really liked FES cycling, I continued with training my muscles and I became fitter. In 2018 I came into contact with PULSE Racing through Reade's therapists. I like being part of PULSE Racing because of the cooperation with nice students who guide me very well in FES. It is very educational and good for my body. My goal is to keep working on my muscles to improve my blood flow. My main reason to be part of PULSE Racing is to increase my health. I have always trained a lot by myself but I appreciate the guidance I get from PULSE Racing. In the future, I hope to continue to train my legs well and to keep my condition up.
Peter van Burk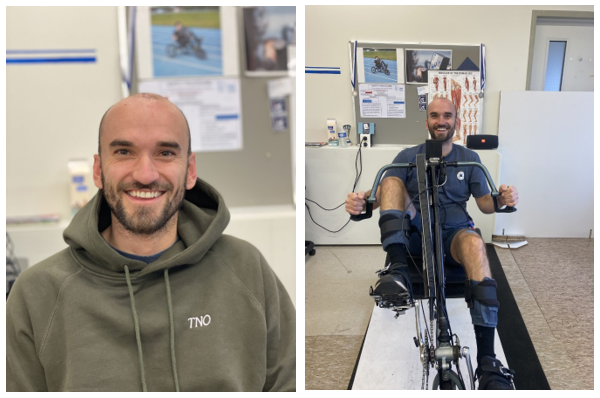 I really enjoy working with PULSE Racing and have a lot of fun doing the trainings! I am Peter, born and raised in Amsterdam, 31 years old. Before my spinal cord injury I was extremely active in sports, about 6 times a week. I trained a lot for triathlons. After participating in half a triathlon (2019) I would go for a full triathlon in 2020. Moreover, I also practiced squash, tennis, golf, Frisbee, go-karting and I was a very fanatic beachball player. Besides, I have created a sport called The Game.
In June 2020, I suffered from a spinal cord injury at the level of my sternum (thoracic 4-5) after a dive in the IJ River. I almost lost all of my sensation below the lesion. Moving the lower part of my body is completely impossible, except for spasms and the use of electrostimulation. Since my spinal cord injury, I can no longer do the sports I used to do. I've been trying out some remaining options for a while now. Seated skiing, wheelchair tennis, handbiking (I am participating in handbike challenge 2022), swimming, seated water skiing and of course bicycle electrostimulation at PULSE Racing are a few examples that have worked out well.
Towards the end of my rehabilitation I had to wait a long time for institutions that would allow me to work again and I was looking for day care. When heard about PULSE Racing, I was immediately enthusiastic. The health benefits of electrostimulation are important to me, but above all I like the fact that the electrostimulation makes me sweat again. Exercising at an intense level is a lot harder with arm movements alone.
Together with Pulse racing, we have already achieved that I can cycle a lot longer on leg power and my PR on the Cybathlon distance is getting faster by leaps and bounds. It now stands at 5:08 over the 1200 meters. It would be really cool to win the Cybathlon with PULSE Racing, but my main goal is to get fitter.
I am having a lot of fun to train with PULSE Racing. It is a very nice team and I want to thank the team for everything!
Jet Pieters-Fuld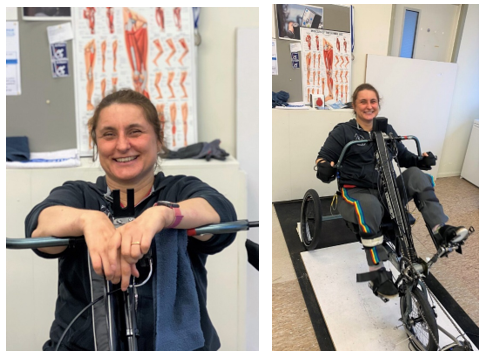 Hi, I'm Jet Pieters-Fuld, 39 years old, and I was born in Naarden Vesting. From the age of 6 to 20, I really liked riding horses. Until I was 11 years old I rode horse at the riding school. Thereafter, I became more and more passionate about competitive sports. Firstly, I only participated on my own pony, the snow-white "professor" Boomerang. Later, I  also participated with my second pony named Moony, after which more and more ponies from others were involved. From the age of 15, I mainly rode horses that were suitable to focus on eventing. Eventing is a combination of dressage, jumping and a cross. Eventing is versatile and requires a high endurance. In the year before I suffered from a spinal cord injury, I trained about 10 hours a day, including 2 hours of fitness and 1.5 to 2 hours of cycling. Despite the fact that the amount of training hours a day was though, it was worth the effort. I love the feeling in my body after a training day. 
Every year from the age of 15 I was in the A or B frame of the European Championships (from youth to Young Riders). On the 12th of July in 2002, I took part in the CCI of Breda which is an international eventing competition. The cross consists of a road course and a kind of obstacle course through the forest over tree trunks and through the water. A second road course and steeple have also been added. In the steeple you go with your horse on some sort of racecourse to jump over some hedges and the speed is about 690 meters per minute. It went wrong on the penultimate jump. Hot Item, my horse, had problems with doing the jump successfully and could not push off well, so we fell.
It resulted in a scrape on Item's right front leg and a C6 lesion for me. From that moment, I was 20 years old and completely depending on a wheelchair. I can no longer move my chest independently, which means that I can no longer consciously control my muscles from my chest and downwards. My feeling can be described as 'spotting'; under the level of the lesion there are spots that I can feel. I also have a lunge in my arms and hands but luckily I have enough strength to use a manual wheelchair. Despite the reduced hand function, I can stretch my left index finger myself, I am handy. For example, I can write and draw without adjustments.
In the rehabilitation center they quickly saw that sports was 'the way to go' for me and they introduced me to as many sports as possible, as soon as possible. Before I broke my neck I had had several shoulder injuries and hand biking was therefore no longer suitable. Injuries that I had in the past really appeared again when I would do the hand biking.
The chairs used in wheelchair rugby did not appear to cause any problems. And that is how I got involved in a new sport. Like horse riding, I also fully committed myself to play wheelchair rugby on a high level in the competition and after a few years I was back in a Dutch team. While playing rugby I met Wouter. Together we played in the Dutch team and in 2012 we got married. Wouter has an (incomplete) spinal cord injury as well.
In 2019 I was diagnosed with breast cancer. My condition was very bad after the treatments and the rehabilitation doctor of the AVL referred me to Reade. She thought training on the Berkelbike was the only effective way to restore my heart-lung condition. At Reade, I first started training with Jeroen and then Marcel on the Berkelbike. I really liked this and because of my enthusiasm Marcel referred me to PULSE Racing.
I started at PULSE in the summer of 2021. PULSE Racing made it possible to train more often, namely twice a week. At PULSE Racing I can train in a way that suits me. Everything is measured and tracked, so progress can be clearly seen and I can train more specifically. I love that, it is kind of back to how I used to work in equestrian sports. I really notice that my heart and lung condition has improved since I train on the Berkelbike. I have to make more and more effort to get my heart rate above 170 BPM. I also no longer suffer from pneumonia after a simple cold. It provides me substantial health benefits. I want to get back to the level of fitness I had before all the operations that I have been through in the AVL. I expect that this is possible with the help of PULSE racing.
Not only training is fun at PULSE Racing. The students participating in the research come from different (medical) courses. My interests are rather broad, but medical topics are particularly appealing to me. Around the time that I broke my neck, I was selected to study medicine and I started with studying biomedical sciences for a year before switching to law. It's nice to meet new people and talk about their studies. It's a win-win situation for me. Besides that I improve my fitness, PULSE Racing helps to optimalise my mind-body balance. At the same time, I get to know people and broaden my horizons. Amazing, right?
Remco Rozendaal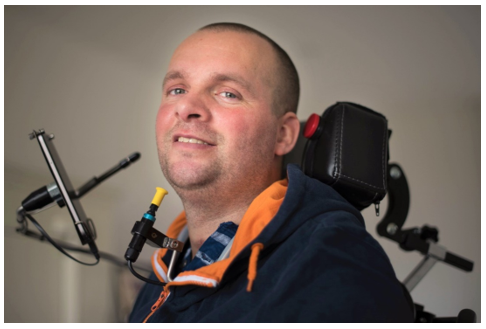 I am Remco Rozendaal, 35 years old and I live in Dronten. My family has a fruit farm where we grow apples and pears. As a young boy I dreamed of taking over the family business and a life at the farm. I was an active tree pruner and self-employed in the fruit business. I was also involved in growing fruit trees, basically I was a jack-of-all-trades. I loved riding motorcycles and going to festivals with friends. So I was a pretty sociable guy, and also single! I was a healthy kid who never had any problems. Until 2015 when my life turned completely upside down.
I had a motorcycle accident and was diagnosed with a spinal cord injury. Since that moment, I am paralyzed from my upper body (nipples) and have no arm or leg function anymore. Although I have regained my mobility for a large part using an electric wheelchair, my paraplegia has major consequences for my independence and daily activities.
I had always been moving around a lot because of my intensive work, so my condition and physical state used to be good. However, this changed since I am in a wheelchair and it is very difficult to keep my body in shape. Fortunately, nowadays there is FES, which gives me a sort of sensation of sports. Together with PULSE Racing I am looking at different possibilities in my training schedule. I am glad that my muscle size has increased because of the cycling with electrostimulation. The muscle mass of my legs is a lot bigger now. This helps against pressure sores.
I have a training schedule for training, 3 times a week for an hour and a half. These training sessions are occasionally a bit longer because exercising feels so good to me! I am finally doing something close to exercise again, just like I used to do. Besides the fact that training with PULSE Racing is good for me physically, it gives a huge mental boost!!!
Do you want to become an athlete at the VU with professional supervision of a student team? And free training on a BerkelBike twice a week? Contact us by sending an email to operations@pulseracing.nl