PULSE Racing is always looking for new athletes who are curious about the use of FES and want to take on the challenge to put together a performance of competing in (inter) national cycling races. At the moment, our team consists of three athletes: Mohammed Ackloufi, Sander Koomen and Nardus Demmers.
Sander Koomen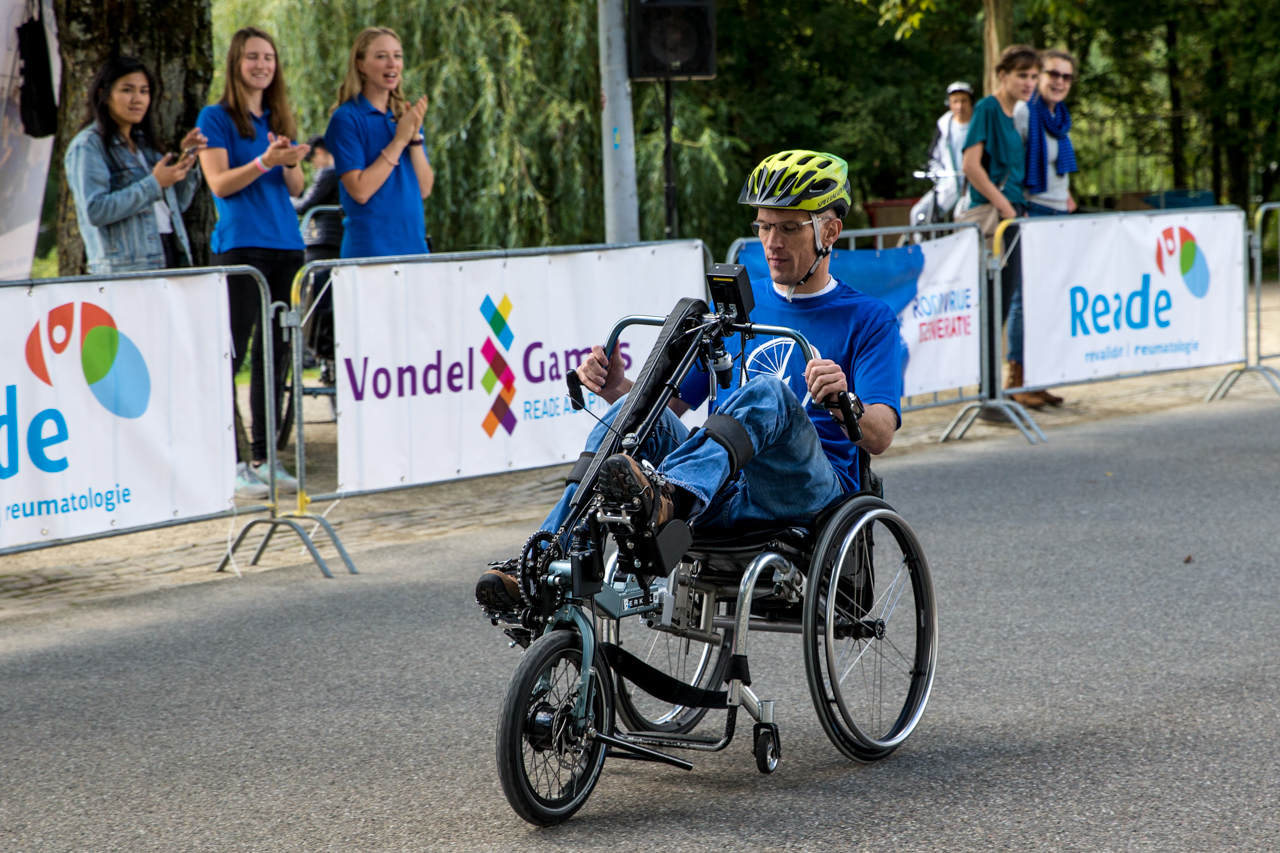 My name is Sander Koomen and I am born and raised in Westfriesland. I started the study MTS- mechanical engineering after the primary and secundairy school. After finishing my studies succesfully, I started to work in the installation technique. This was in 1993, when I was 20 years old.  Next to this, I always participated a lot of different sports. Moreover, the focus was always on running and bicycling. In Mei 1994, 6 months later, I participated a cycling course at Haarlemmermeer. In this track I fall with my bike. Through the fall the vertebra TH7 shifted which caused a dwarsleasion at that level.  Until now I had minor complications, but I am still on the look out for decubitus. Because of this I made contact with Rik Berkelmans. Through him I know the existance of the Berkelbike. The goverment gave me a Berkelbike so I can keep participating sport. I try to keep on training with the Berkelbike 3 times a week.

Mohammed Ackloufi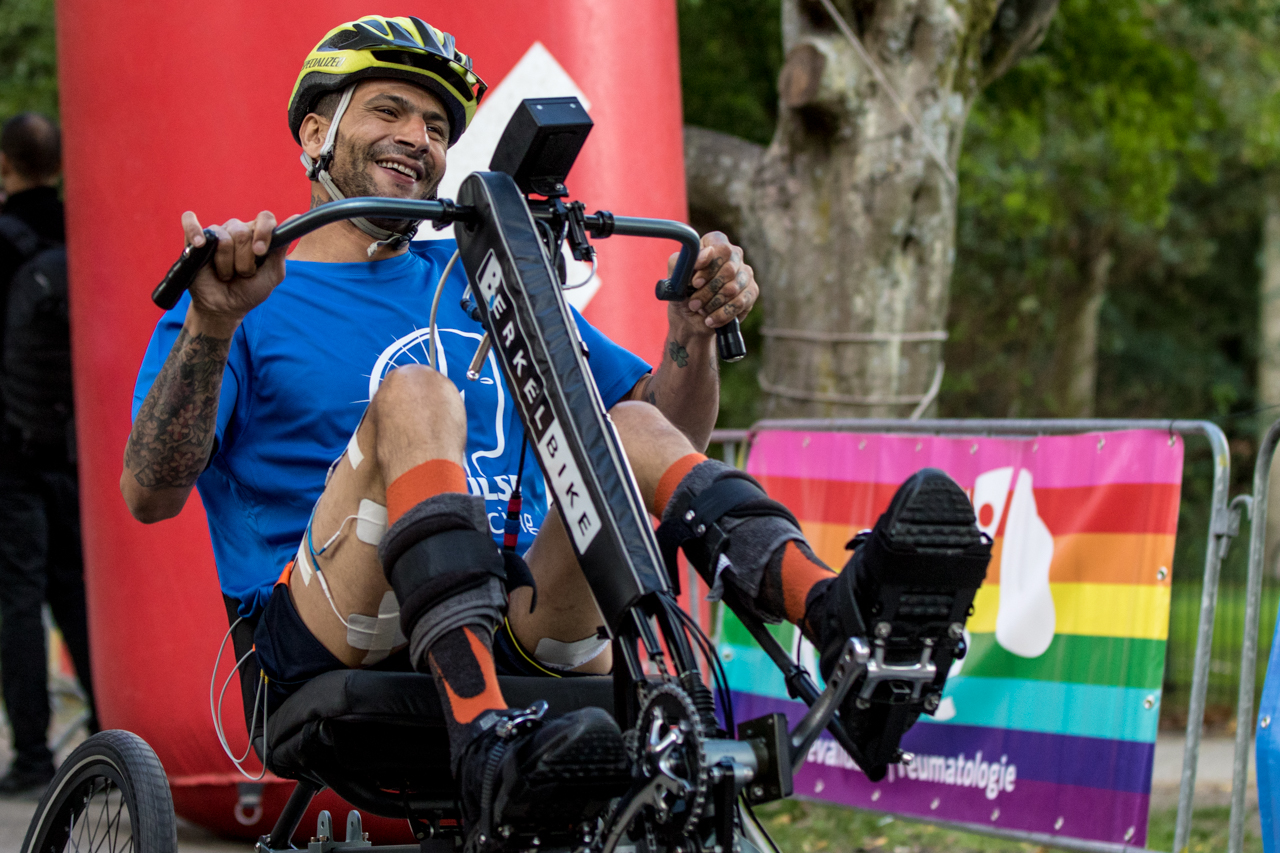 My name is Mohammed Ackloufi, I live in Almere and I am one of the pilots at PULSE Racing. In 2002 I have been through an traumatic accident, which had caused my dwarsleasion at level TH7/8. Next to this, I always liked to do sports. After my accident I participated at the paralimpics rowing and skying. In this period I also came in though with electrical stimulation. After I started as testperson at the company of Rik Berkelmans, I also got in touch with bicycling with electrical stimulation at the rehabilitation center Reade. Because I really liked this I developed bicycling with FES further and started training to become more fit. In 2018 the therapists at Reade suggested to get in touch with PULSE Racing. I like to see how students are developing this project. I am working together with these student to train my legs and hopefully I can play a part at the Cybathlon 2020.
Nardus Demmers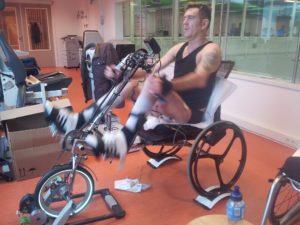 My name is Nardus Demmers, a 48 year old man and born in Ijmuiden. As a 2-year-old our family moved to South Africa, where I went to primary school. This is where I first came into contact with sports. I was chosen to represent my school on international level. In summer it was athletics and cricket and in winter rugby. I was 12 that we were moving back to the Netherlands. Back in the Netherlands I immediately went back to athletics and rugby. I also started running longer distances.
School was not for me. When I was 16 I finished the LTS school in metalworking and immediately went to work as a construction worker / welder. Next to this, I always kept doing sports.  I did, however, complete the Dutch Institute for welding technology when I was 18 years old. Following graduation, I started working in the fishing industry and working offshore, again as a construction employee. But even then, rugby was an important factor in my life. I always did sports, until my employer told me I had to stop because of the danger that I could get injured and maybe cause a dispute.
Fortunately, I was able to get a good job as a self-employed person for assembling buildings, in addition to which I could resume sports.
Later on, I would become co-owner of my girlfriend's gym until it happened. On my 29th (July 2001) I broke my neck by diving into the sea. I first thought that I would drop myself flat on my stomach because it was very low water until a very nice wave came and I thought I could dive into it. I was urgently transported to the hospital in an ambulance under police supervision and a flying helicopter above me. The MRI indicated a fracture of C5 and 6. After a month in the hospital I have rehabilitated in the RCA.
Once in the rehabilitation center you have to boost yourself in order to return to society as well as possible. After your rehabilitation progresses I came into contact with sports again. At first this was hand biking and quad rugby. I also came in contact with electrostimulation, where I was introduced by physiotherapists to Prof.dr. Thomas Janssen of the Vrije University of Human Movement Sciences. This is now 18.5 years ago. He advised to wear electrostimulation pants for a longer period of time, for 8 weeks, every day and night. In addition, I was the first to test the first bed bike that came over from America. Within a year I was already allowed to participate in many graduation projects.
Now after 18.5 years I am at PULSE Racing, where I am being trained by ladies from the VU on a Berkelbike from Rik Berkelmans. The goal is to cycle independently with my legs for a longer distance using FES.