PULSE Racing is always looking for new athletes who are curious about the use of FES and want to take on the challenge to put together a performance of competing in (inter) national cycling races. At the moment, our team consists of two active athletes, Mohammed Ackloufi and Nardus Demmers, and former athlete Sander Koomen.

Mohammed Ackloufi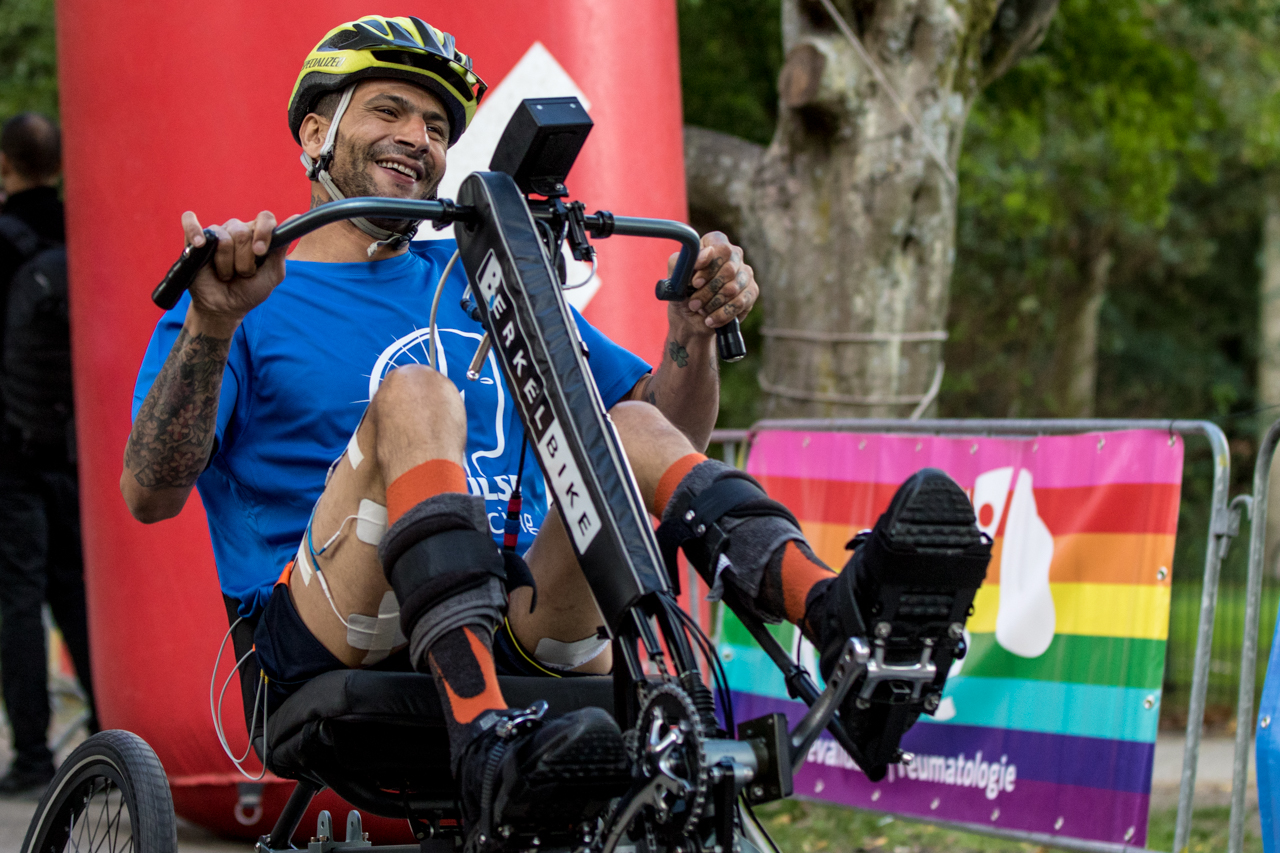 My name is Mohammed Ackloufi, I live in Almere and I am one of the pilots at PULSE Racing. In 2002 I have been through an traumatic accident, which had caused my dwarsleasion at level TH7/8. Next to this, I always liked to do sports. After my accident I participated at the paralimpics rowing and skying. In this period I also came in though with electrical stimulation. After I started as testperson at the company of Rik Berkelmans, I also got in touch with bicycling with electrical stimulation at the rehabilitation center Reade. Because I really liked this I developed bicycling with FES further and started training to become more fit. In 2018 the therapists at Reade suggested to get in touch with PULSE Racing. I like to see how students are developing this project. I am working together with these student to train my legs and hopefully I can play a part at the Cybathlon 2020.
Nardus Demmers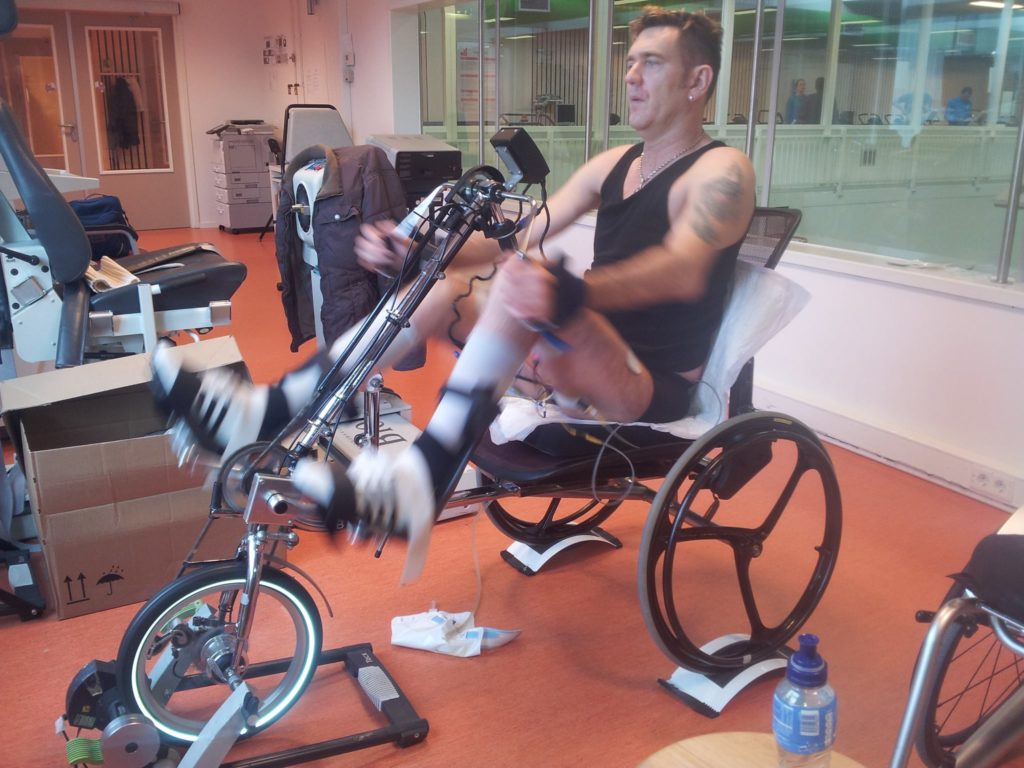 My name is Nardus Demmers, a 48 year old man and born in Ijmuiden. As a 2-year-old our family moved to South Africa, where I went to primary school. This is where I first came into contact with sports. I was chosen to represent my school on international level. In summer it was athletics and cricket and in winter rugby. I was 12 that we were moving back to the Netherlands. Back in the Netherlands I immediately went back to athletics and rugby. I also started running longer distances.
School was not for me. When I was 16 I finished the LTS school in metalworking and immediately went to work as a construction worker / welder. Next to this, I always kept doing sports. I did, however, complete the Dutch Institute for welding technology when I was 18 years old. Following graduation, I started working in the fishing industry and working offshore, again as a construction employee. But even then, rugby was an important factor in my life. I always did sports, until my employer told me I had to stop because of the danger that I could get injured and maybe cause a dispute.
Fortunately, I was able to get a good job as a self-employed person for assembling buildings, in addition to which I could resume sports.Later on, I would become co-owner of my girlfriend's gym until it happened. On my 29th (July 2001) I broke my neck by diving into the sea. I first thought that I would drop myself flat on my stomach because it was very low water until a very nice wave came and I thought I could dive into it. I was urgently transported to the hospital in an ambulance under police supervision and a flying helicopter above me. The MRI indicated a fracture of C5 and 6. After a month in the hospital I have rehabilitated in the RCA.
Once in the rehabilitation center you have to boost yourself in order to return to society as well as possible. After your rehabilitation progresses I came into contact with sports again. At first this was hand biking and quad rugby. I also came in contact with electrostimulation, where I was introduced by physiotherapists to Prof.dr. Thomas Janssen of the Vrije University of Human Movement Sciences. This is now 18.5 years ago. He advised to wear electrostimulation pants for a longer period of time, for 8 weeks, every day and night. In addition, I was the first to test the first bed bike that came over from America. Within a year I was already allowed to participate in many graduation projects.
Now after 18.5 years I am at PULSE Racing, where I am being trained by ladies from the VU on a Berkelbike from Rik Berkelmans. The goal is to cycle independently with my legs for a longer distance using FES.
Sander Koomen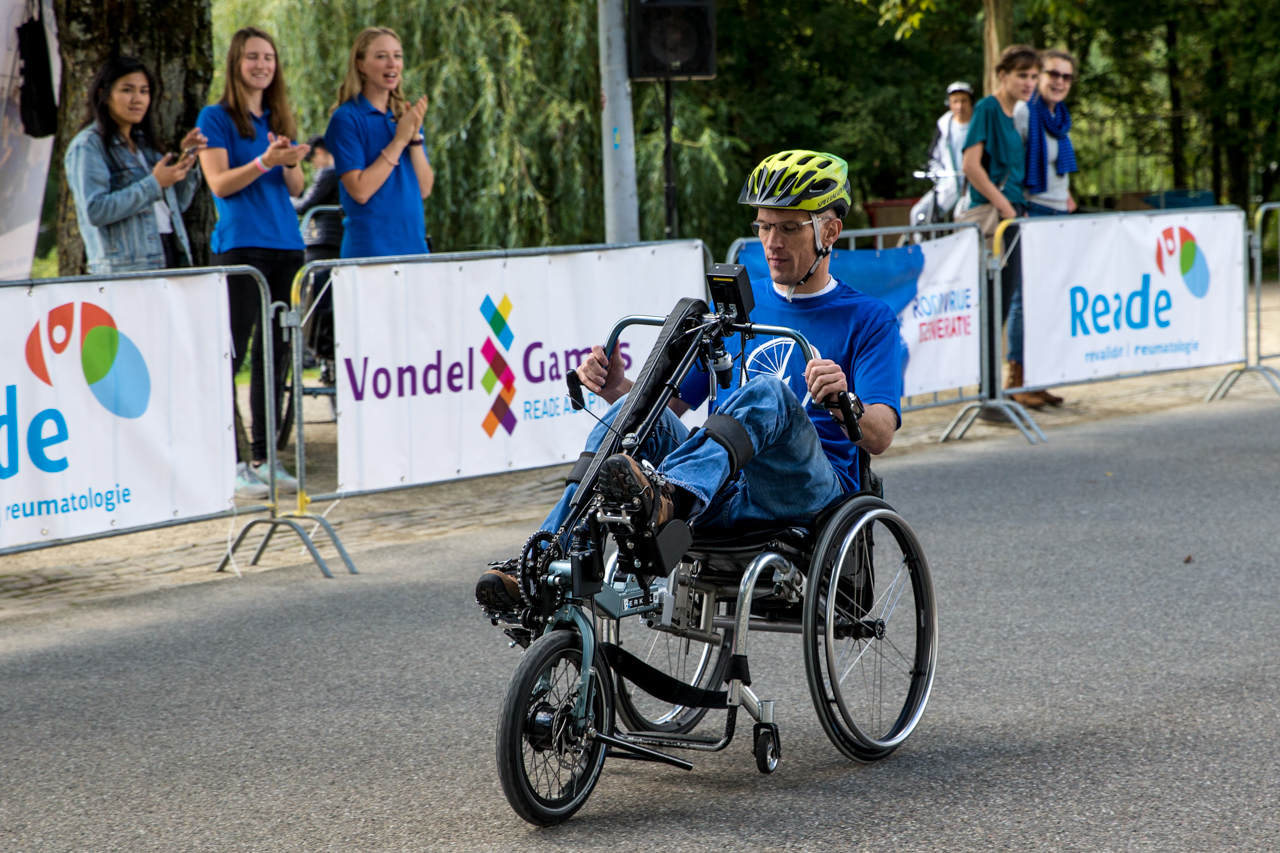 Sander Koomen is a former athlete of the PULSE Racing team. He ended on the first place, when he participated in The Global Edition of the Cybathlon 2020, in the category Functional Electro Stimualtion (FES). During the extraordinary edition of The Cybathlon, due to corona, he set a impressive time of 2 minutes and 40 seconds over a distance of 1200 meters, with which he became the winner.
"My name is Sander Koomen and I am born and raised in Westfriesland. I started the study MTS- mechanical engineering after the primary and secondary school. After finishing my studies successfully, I started to work in the installation technique. This was in 1993, when I was 20 years old. Next to this, I always participated a lot of different sports. Moreover, the focus was always on running and bicycling. In Mei 1994, 6 months later, I participated a cycling course at Haarlemmermeer. In this track I fall with my bike. Through the fall the vertebra TH7 shifted which caused a spinal cord injury at that level. Until now I had minor complications, but I am still on the look out for decubitus. Because of this I made contact with Rik Berkelmans. Through him I know the existance of the Berkelbike. The government gave me a Berkelbike so I can keep participating sport. I tried to keep on training with the Berkelbike 3 times a week."
After years of good cooperation Sander decided to take another challenge and was going to shift from FES to the handbike. The members of the PULSE Racing team want to thank Sander for all the lovely years an wish him success and luck in the future.