PULSE Racing is always looking for new athletes who are curious about using FES and want to take on the challenge together. At the moment there are two fanatical athletes, Mohammed Ackloufi and Peter van Burk.
Mohammed Ackloufi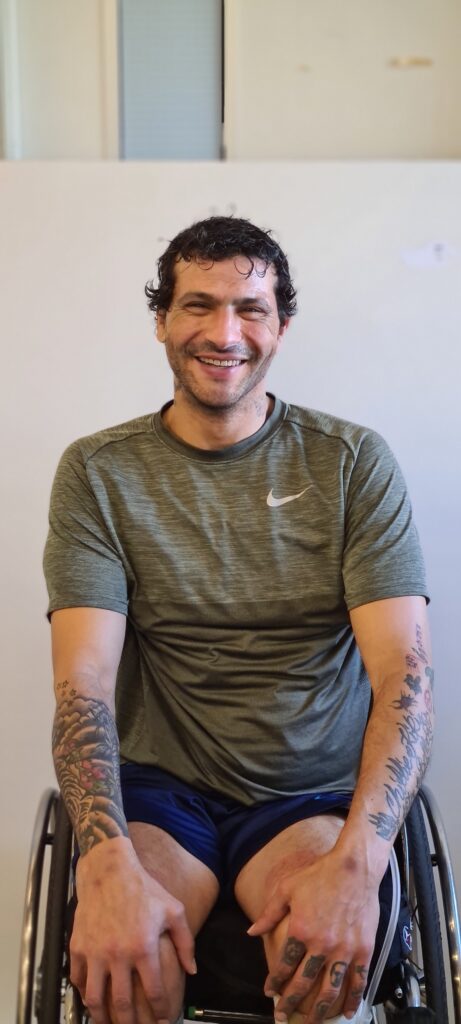 My name is Mohammed Ackloufi, I come from Almere, and I am one of the athletes at PULSE Racing. I had an accident in 2002 that left me with a spinal cord injury at level TH7/8. From the belly button down I don't feel anything anymore, only sometimes I can feel the warmth of my phone on my leg. The only movement I experience is my spasms. Long ago, these were sometimes so strong that I could stand on my legs.
In addition, I have always been a fan of sports. Before the accident, I was running every day because I couldn't sleep otherwise. I was also an avid kickboxer, skier and rower. Sport is important to me because it is good for the brain and motivation.
After I ended up in a wheelchair, I participated in the Paralympic Games with rowing and skiing. It was intense to train for this, but that made it fat to do. I have participated in rowing at European and World Championships and I even won gold at the World Championships. In the future I don't plan to participate in the Paralympic games anymore, because now I like to exercise only for fun.
During the period of the Paralympic Games I also came into contact with electrostimulation. After I started as a test subject at Rik Berkelmans' company, I also started using FES bicycles in the Reade rehabilitation center. Because I really liked FES cycling, I have further developed this to train my muscles and become more fit. In 2018 I came into contact with PULSE Racing through Reade's therapists. I like being at PULSE Racing because they are nice students and nice guys who guide me well in FES. It is very educational and good for my body. My goal is to keep working on my muscles for better blood flow. I am mainly at PULSE Racing for the health benefits I get from it. I have always trained for myself and PULSE Racing contributes well to this with the right guidance. I hope in the future to continue to train my legs well and to keep my condition up.
Peter van Burk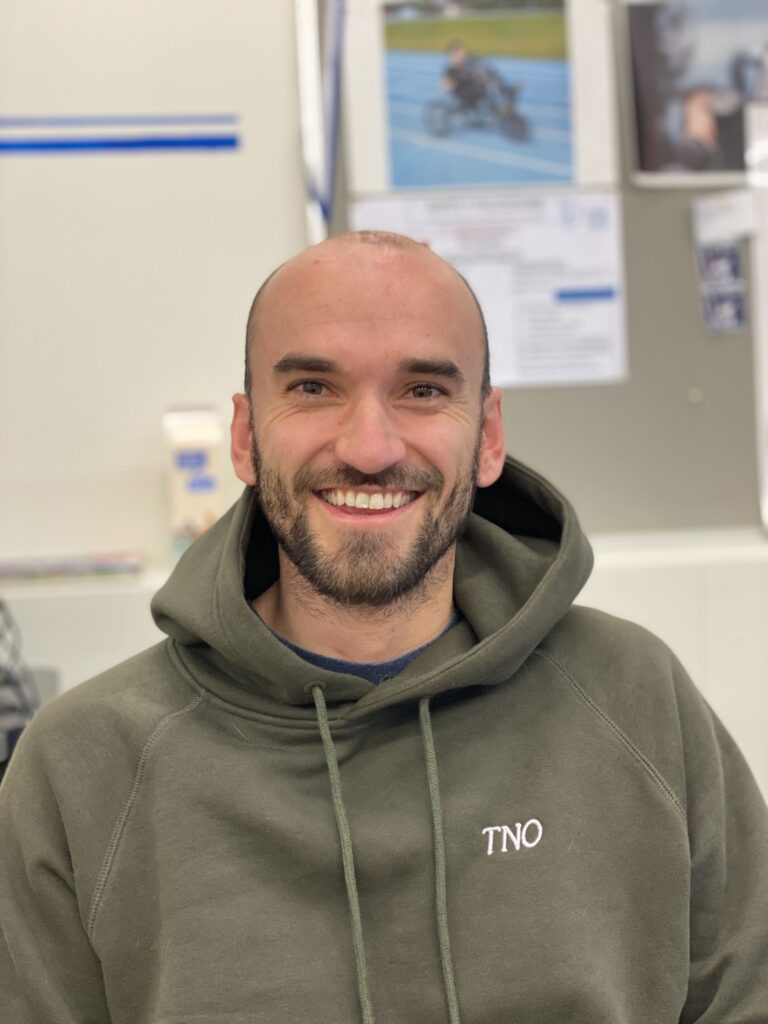 I really enjoy working with PULSE Racing and have a lot of fun doing it! I am Peter, born and raised in Amsterdam, 31 years old. Before my spinal cord injury I was extremely active in sports, about 6 times a week. I trained a lot for triathlons. After participating in half a triathlon (2019) I would go for a full in 2020. I also practiced squash, tennis, golf, Frisbee, go-karting and very avid beachball. I had even created a sport called The Game.
In June 2020, I suffered a spinal cord injury at the level of my sternum (thoracic 4-5) after a dive in the IJ River. I almost lost all of my sensation below the lesion, moving there is completely impossible, except for spasms and the use of electrostimulation. Since my spinal cord injury, I can no longer do the sports I used to do. I've been trying out the remaining options for a while now.
Seated skiing, wheelchair tennis, handbiking (am participating in handbike challenge 2022), swimming, seated water skiing and of course bicycle electrostimulation at PULSE Racing are a few examples that have worked out well.
Towards the end of my rehabilitation I had to wait a long time for facilities that would allow me to work again and I was looking for day care. When I came across PULSE Racing via via, I was immediately enthusiastic.
The health benefits of this form of electrostimulation are important to me, but above all I like the fact that I can really work up a sweat again. This is a lot harder with arm movements alone.
We have already achieved that I can cycle a lot longer on leg power and my PR on the Cybathlon distance is getting faster by leaps and bounds. It now stands at 5:08 over the 1200 meters.
It would be really cool to win the Cybathlon with PULSE Racing, should I be chosen as an athlete, but my main goal is to get fitter.
I am having a lot of fun training with PULSE Racing, it is a very nice team and I want to thank you for everything!