This year, PULSE V consists of a diverse group of 12 master and bachelor students of Human Movement Sciences, Medicine and Health and Life Sciences. The variability in knowledge and (research)qualities that the PULSE V members have means that we can help and fully support each other where necessary.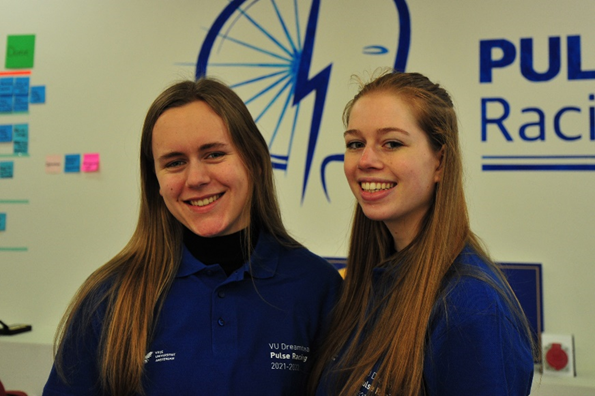 The Management Department is represented by two ambitious students; the team manager and deputy manager. As the face of the team, they are jointly responsible for the team and they fulfill their role as the first contact person. Networking is important within the Management Department as well as leading the team and making important decisions. The Management Department spends a lot of time calling, emailing and preparing meetings. More information about the departments can be found on pulseracing.nl.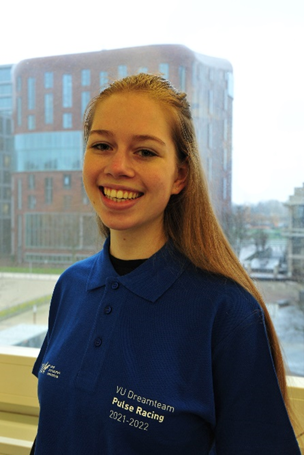 Susan Donker
I am Susan Donker and am in my second year of the bachelor Medical Sciences. In the future I want to make people better, but more importantly improve their quality of life. Seeing the joy the athletes get from training is inspiring and spreads so much happiness. Organising and planning is something I have always enjoyed. I also wished to improve my leadership. This is the reason why I am so glad to be manager of PULSE V.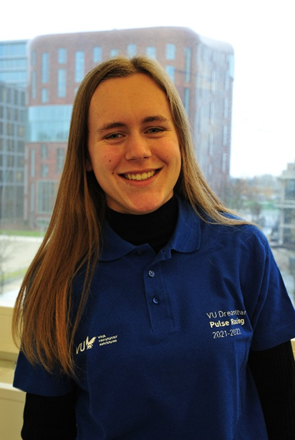 Emma Klever
I have joined PULSE Racing, because I want to put the knowledge I gained during my study Human Movement Sciences into practice. As a deputy manager, I often work together with the team manager to organise and control internal and external issues. It's nice to be a deputy manager because you know what is going on in every department of the team. The most fun about the trainings is that our athletes are really enthusiastic and grateful.
The Operations Department consists of three dedicated students who are involved in updating the social media, promoting PULSE Racing and sponsor acquisition. Other tasks are writing the newsletter, arranging events and thinking about how to increase awareness of PULSE Racing.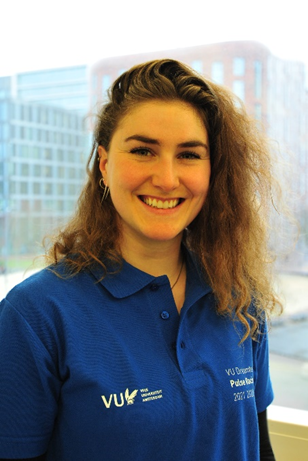 Renske Flach
PULSE Racing has allowed me to gain more practical experience. Everything I have learnt up to now in Human Movement Sciences has become more coherent. The experience of working within an organization that has such a good cause and inspiring athletes motivates me. This gives me a clearer idea of the purposes I wish to use my knowledge for in the future.
Hannah van der Pas
Because I finished my bachelor in Physiotherapy, training athletes gives me a lot of energy and is a great way to apply the things that I have learned in practice. Besides giving trainings, I also joined the Operation Department were I am mainly responsible for the social media. A goal for this year Operations is to grow bigger on social media and to be seen more, which is a great challenge!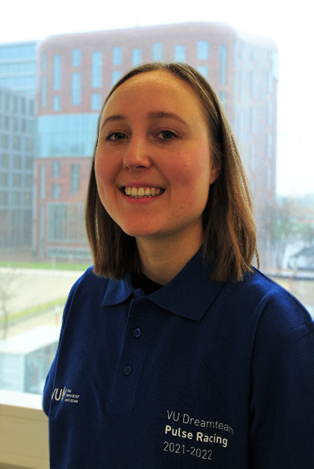 Anne van der Tuin
As a new member PULSE V, I am looking forward to train and to get to know the athletes to achieve the athletes' personal goals. Furthermore, the knowledge I gained from my study Health and Life Sciences can help to look at a wide spectrum of factors that contribute to a healthy lifestyle. I am part of team Operations and I am really excited to announce developments of PULSE Racing by writing the newsletters in the upcoming year. I will keep everyone informed about our activities!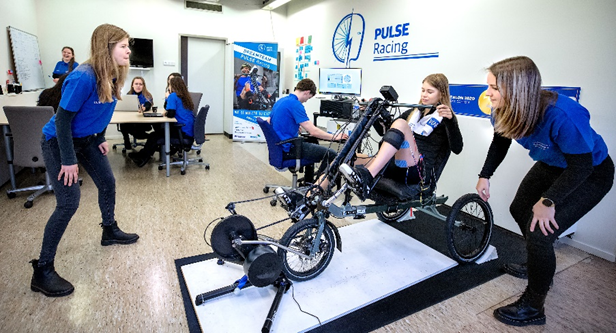 This year, the Human Power Department contains seven enthusiastic students who are responsible for training the athletes, as well as making their training schedules. The Human Power Department tries to optimise the trainings in order to reach the maximum results. Research about the working of FES is conducted as well. Furthermore, the Human Power Department is making improvements in the use of the Berkelbike by updating the software.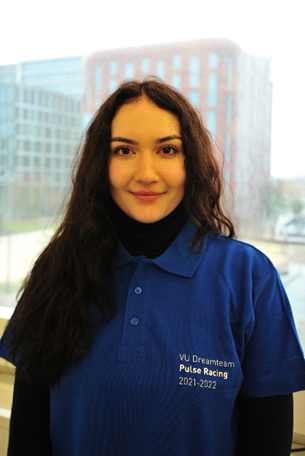 Madalina Riurean
For a physiotherapist and a Human Movement Sciences research master student, PULSE Racing is the perfect place to merry all the knowledge I've gained over the years. Working with these amazing athletes and looking into improving their performance and overall quality of life could not be more rewarding.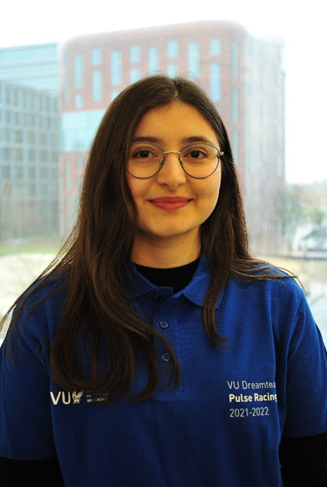 Dilara Burcak
As a trainer at PULSE Racing, I enjoy making personalized training schedules whilst putting in the knowledge I gained during my studies in the best way possible. Seeing the athletes improve themselves mentally and physically after every training is really fulfilling and inspires me in many ways! Besides that, the Human Power Department is just the best among other departments ;).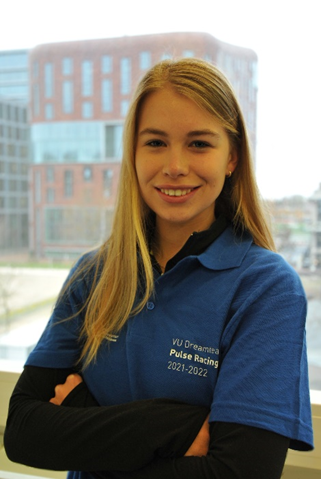 Fabienne de Boer
PULSE is a challenging opportunity in which I work together with this amazing group of trainers and athletes to research and figure out the best type of training program per athlete. A fun and inspiring experience in which we are all very involved in the progress of each athlete!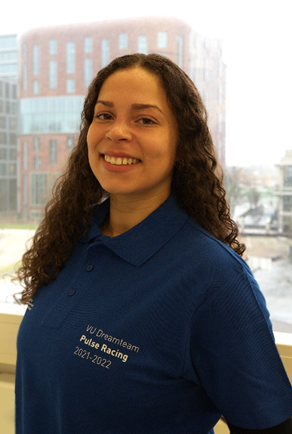 Clara Lopes
I experienced functional electrical stimulation (FES) in Physiotherapy practice especially as an addition to neurological rehabilitation. However, PULSE Racing not only uses FES because of the rehabilitation benefits, but also to train athletes and to reach their goals. For me it is amazing to give our athletes the possibility to train with FES and participate in competitions with our bike. I find working with the team and the athletes very enriching and I hope we can enrich other people out there as well through our project.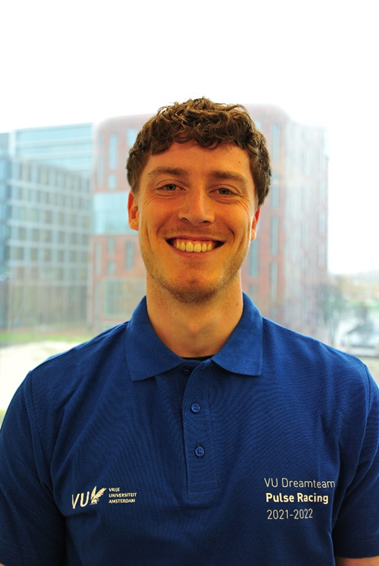 Wouter Marinus
PULSE Racing shows that there is a lot to discover outside the lecture hall. Everything I learn during my bachelor in Human Movement Sciences, can be found in the field, and this is what makes it so exciting. While giving athletes the possibility to improve and have fun while working out, I learn a lot from them, which gives me energy to learn and improve even more.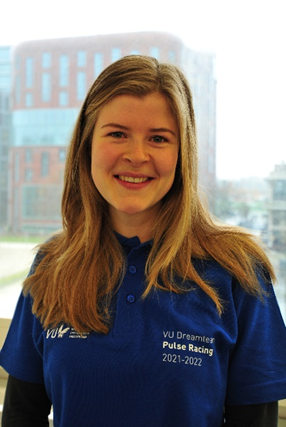 Lisa van Bodegraven
My study (background) is the ideal combination for PULSE Racing: from the bachelor Health and Life Sciences I can share my knowledge about health in a broad sense, and with the skills learned at the college of physical education I can get started with training schedules and supporting athletes. Fantastic to be able to put everything into practice as a trainer!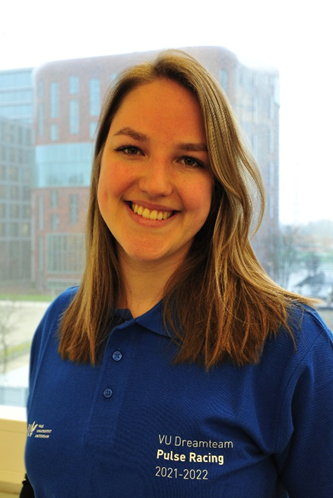 Alyssa Groeneveld
As a trainer, I take care of the safety and training schedules of the respective athlete. Together we look at the goals and wishes of the athlete, which I then develop into a training schedule. I really enjoy training because you can see how the athlete is progressing, you can see that they are having fun and of course you can also see how sociable they are during training.