This month, Jet Fuld came to the decision that it is needed for her to stop with PULSE Racing. Jet already took a break the last couple of months because of a recurring shoulder injury.
Having a spinal cord injury is impressively demanding for muscles that are still functional, which means that people with a spinal cord injury can get sore muscles quite quickly. Instead of training multiple times a week together with PULSE Racing, Jet will take it easy and train only once a week with her physiotherapist. This way, she can focus on her recovery.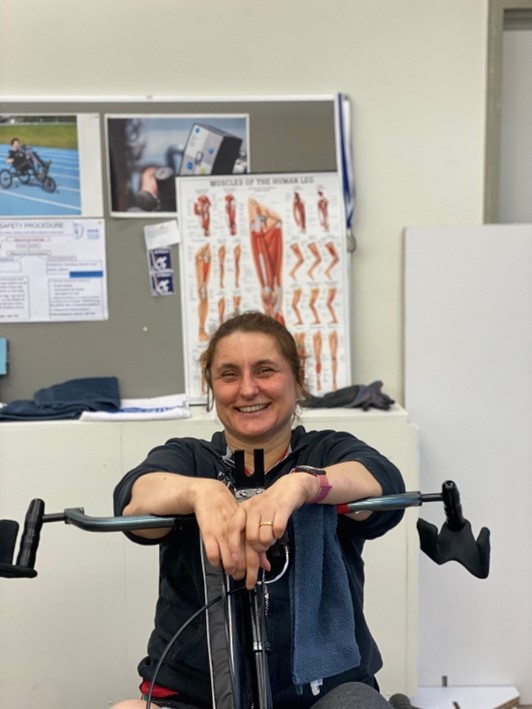 Jet started to train with PULSE Racing in summer 2021. PULSE Racing made it possible to train more often, namely twice a week. Her progress has been measured and tracked during the time she was active at PULSE. Jet was really content with this, because the measuring reminds her to her time playing equestrian sports. Her heart and lung condition has improved since she has started to train on the Berkelbike. It provided her substantial health benefits. At the same time, She got to know the students from PULSE Racing and PULSE has broaden her horizons.
We want to thank Jet for sharing her talents with us and for supporting the mission of PULSE Racing. We appreciate her time, effort and token of kindness. We are grateful for your positive outlook and commitment. Jet, we hope that your new collaboration can leverage your strengths again. Because we all love doing the things we are great at. Pulse Racing is looking back on a wonderful time. Take care!
Do you want to become an athlete at the VU with professional supervision of a student team? And free training on a BerkelBike twice a week? Contact us by sending an email to operations@pulseracing.nl