There have been developments concerning functional electrical stimulation (FES) as well.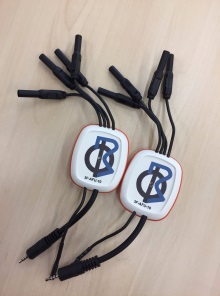 The PULSE Racing team will, from now on, implement SDSS in the training sessions. SDSS stands for Spatially Distributed Sequential Stimulation, or distributed stimulation. The electrical impulses are sent to 4 small electrodes instead of one electrode. SDSS is a system developed by the Serbian company '3F-Fit Fabricando Faber'. They are involved in the development of systems that help people with disabilities to move, with the aim of improving the quality of life.
The system ensures that the electrical pulses are sent alternately to one of the small electrodes instead of to a single electrode. Research has shown that SDSS with regard to SDS (one-sided stimulation) provides of a larger power output during FES cycling. For example, it appears that 25% more power can be delivered during the stretching of the knee. In addition, the muscles seem to become less tired when SDSS is used.  We hope to be able to share the first experiences with SDSS soon!