23 & 24 September 2022
Lyon Cyber Days
We look back on a fun, educational and enriching weekend at the Lyon Cyber Days 2022. During these days we were present on a conference with international speakers on various topics around the stimulation of the disabled body. Also, our athletes joined a 100m, 200m and 500m race against other teams.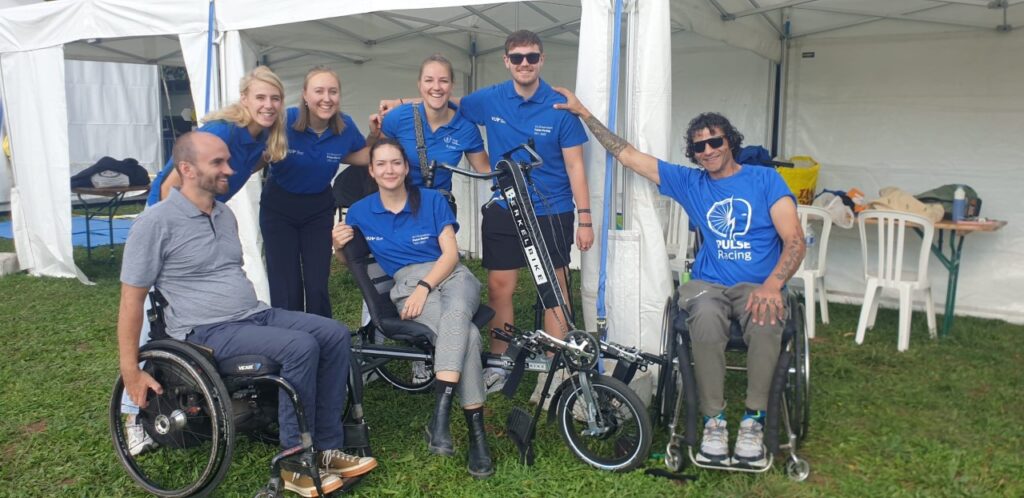 19 March 2022
Workshop for V.I.B. Brusjesdag
Members of the Vereniging in Beweging (V.I.B.) may bring along brothers, sisters, nephews and nieces on this day. From 10:15 they can walk in and at 10:45 the first round of workshops will start. In total there will be 4 rounds, so the groups will rotate.
PULSE Racing has also organised a workshop for this event. It will first explain and present what spinal cord injury, PULSE Racing and functional electrostimulation (FES) are all about. Then there will be a moment to work with the motorpoint pen. This is a method to discover where on the muscles the electrodes can best be placed. This is where the electricity will be best conducted through the muscle. Afterwards, there will be a short demonstration on the Berkelbike, on which our athlete Peter trains and will answer questions of interested people.
Location: Loopzaal MF-gebouw VU, van der boechorststraat 7, Amsterdam
14 April 2022
Podcast recording with de Dwarsliggers
This day one of our athletes, Mohammed Ackloufi, will make an episode with de Dwarsliggers together with experienced PULSE team member Alyssa Groeneveld. This will take place in our own lab, where normally trainings and meetings are held.
De Dwarsliggers is a Dutch podcast all about young life with a spinal cord injury. The podcast that makes you feel like you're listening in on a conversation of your neighbours in the backyard next door. Previous topics they have dealt with are for example what it is like to travel with a spinal cord injury, how you can get pregnant or WCMX Wheelchair motocross.
This time they will visit us to learn more about the work that PULSE Racing does. The podcast can be found via the following link: De Dwarsliggers | Podcast op Spotify
15 April 2022
Phase III study: asynchronous quadriceps stimulation with the Splitter
Interested in our research? Please mail to info@pulseracing.nl.
21 April 2022
Business fair of Movement Sciences Amsterdam
In the last hours of the (late) afternoon our team will be present at this market. The company market is part of the career week of the bachelor and master Movement Sciences. At the business market, students get the chance to make a tour of all the companies and organisations related to the field. This gives students the opportunity to ask companies questions and to network. This day is also important for students because it is an excellent opportunity to learn more about the opportunities on the job market, the minors and masters of Movement Sciences.